i ate a lot today >.< ugh ..
went to mcdonald's around 3PM (Philippines time) to wait because i have an appointment around 4PM . ordered tuna sandwich (first time) cause it will be really inappropriate to stay there without buying anything (not to mention connecting to their wifi) . UGH ! i was expecting for the tuna sandwich to be "oohhh so yummyyy ~~" cause ive heard great things about it from my brother , but .. ugh ! you know what's next . lol ..
uh-huh .. i still got full . i ate 3/4 of the sandwich cause i didn't want it to go to waste (i loved the bun though) . went back to the place where i had to go, just to find out he wasn't still there . im like "PFT ! nevermind" . bf called, asked where i was , and suggested to go to the mall . i actually dun have any problems going to any malls except Abreeza cause there aren't really a lot of things you can see there (i just go there to eat) . that's why i told him "we should eat there" . both of us are running low >.< waaa .. ok ok .. this is food .
sooooo , while waiting for him, i went strolling and saw RAI RAI KEN ! my favorite japanese restaurant :) they were on 50% discount YAY !! (for Davao people, promo's until August 31 only in Abreeza branch) i really love their bento <3 [sorry for the low quality . camera had an empty battery, so used phone instead]
rai rai ken bento (actual name) with miso soup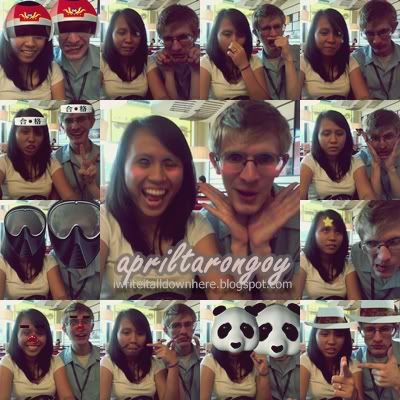 us goofing around via webcam
The "Rai Rai Ken Bento" was really good ! ebi + japanese rice + miso soup + chicken lollipop + vegetable only for 7.31$
(the dish my bf ordered was the one with 50% discount)