Let me just share to you the Korean Dramas that I've been downloading recently :) I've been waiting for months to be able to download them, and here they are finally !
(stuck on my hard drive though lol)
Thank you to the founder of
http://asiatorrents.me
for these and
http://mysoju.com
for the good finds
(I go there to look at the top kdramas)
The Moon that Embraces the Sun
Historical drama "The Moon Embracing The Sun" tells a love story between King Lee Hwon (Kim Soo-Hyun) and a female shaman named Wol (Han Ga-In). Wol was born from a noble family and became the crown princess, but she was entrapped and faced execution. Finally, she lived as a shaman.
I knew Kim Soo Hyun because of Dream High. He really portrayed his role very well. This was his 2nd big drama. I was already planning on watching this even before I heard my friends' feedbacks. They said it's a really nice drama.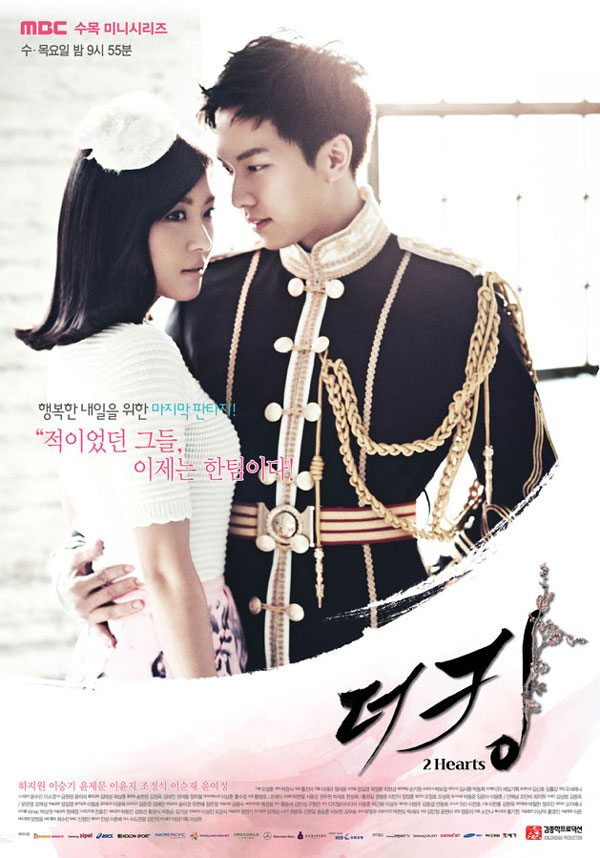 The King 2 Hearts
This drama is set in modern day where South Korea is governed by a constitutional monarchy. Lee Jae Ha is a handsome and materialistic crown prince that doesn't care about politics. He falls for Kim Hyang Ah, a North Korean special forces agent.
*this is the one I'm currently watching*
Lee Seung Gi (Shining Inheritance) and Ha Ji Won (Memories of Bali) in one drama? You should never really miss this. Not only are the actors/actress one of the best in korea, but the plot is nice too. The summary I just gave kinda sucks though lol Not only is this a love story, but has something to do with politics as well.
Fashion King
Fashion King tells the story of young aspiring designers in Dongdaemun Market as they dream of success, and the relationships, love, and challenges they face along the way. Kang Young Gul has never had any goals or dreams for a bright future until he meets Lee Ga Young. Together they work towards their dreams.
I'm don't know if this is really a good drama yet. But Yoo Ah In (Antique Bakery and Sukyukwan Scandal) is just to irresistible! *o* and SNSD's Yuri is also here.
Love Rain
"Love Rain" depicts a 1970's pure love and a love from the present day at the same time. It shows how the offsprings of a previous ill-fated couple, who met in the 1970s, managed to meet and fall in love. Seo In Ha and Kim Yoon Hee, a art student and a shy beauty, met and fell in love with each other during college in the 1970s but unfortunately their love was fated to never be. Now in the present 21st century Korea, Seo In Ha's son, Seo Joon (a liberal photographer) meets and falls in with the daughter of Kim Yoon Hee, Kim Ha Na, a cheerful and energetic girl who's personality is different from her mother's. Will their love for each other keep them together or will they have to face the same fate as their parents?
Love Rain. hmmm.. another member of SNSD's one of the cast, Yuna. I'm not really a fan of them (please don't bash me). I'm gonna watch this one because the summary caught my attention, and also the guy from Mary Stayed Out All Night, Do Re Mi Fa Sol La Si Do, and You're Beautiful is here lol
Rooftop Prince
A prince from the Joseon era, Lee Gak, is catapulted 300 years forward into the future in Seoul 2012 with his entourage, which includes Song Man Bo, Do Chi San and Woo Young Sul, when he tries to investigate the suspicious circumstances which surround the death of the girl he loved. In the present, he finds a girl who looks exactly like his beloved crown princess...
I'm such a fan of korean dramas >.< or probably korea itself. I'm even starting to learn Hangeul (Jonathan gave me a book). Anyway, I've been looking out for these dramas since January because of allkpop's articles lol I used to not watch kdramas because on the actors/actresses, but lately, it's been a huge factor for me.
Have you watched any of these dramas I mentioned? What do you think?